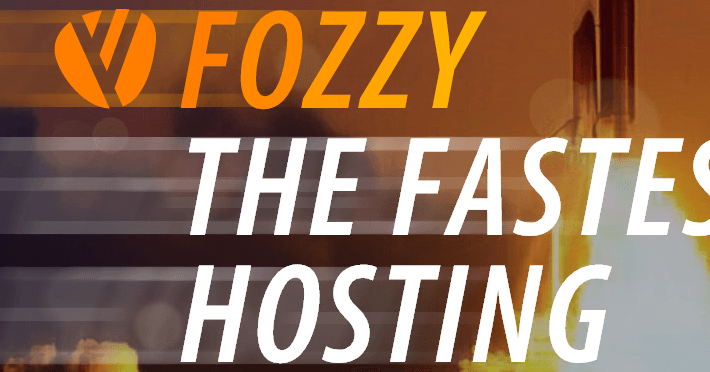 Choosing the right web hosting provider is one of the main concern for us as this market is flooded with many who offer wide range of features with different pricing. What really matters you the most is the speed offered by the hosting company to your website or blog as this is one of the important factor that search engines consider.
A study picture of the speed
Hosting from Fozzy seems to solve the glitches with your loading speed  to great extend, so how?  Read our review about them, below
Fozzy SSD economic hosting review and plans offered

Unlike many other providers who just say 5GB of disk space Fozzy offers  SSD to keep your files, so makes SSD better?
SSD or solid state drive doesn't have any mechanical moving parts compared to conventional hard drive and have better I/O
LiteSpeed web server
Many may not be familiar with this term so we are giving a quick overview
Gives you uncompromising speed and performance even if you had have a traffic burst
9 times faster compared to standard apache web hosting
PHP serving speed improved upto 50%
67% faster than Nginx
Free CDN ( content delivery network)
To make sure that visitors get bleeding loading speed for your websites when its accessed across the world, free  CDN is offered free in all the plans which is not offered by any other shared hosting providers
Other features offered by Fozzy to enhance the speed
PHP fast CGI mode
APC accelerator
Support
We didn't find any live person on the main page so we used old school method, email to reach them. All our queries regarding pre-sales and tech were answered swiftly by their dedicated team. We did ask why no live person? Answer " we work through email everything is documented."
Backup offered
As you know WordPress is most prone to hacking, which can bring down your blog or online business. To make sure that you don't loose your precious data in events like this they provide free automatically daily back ups and you can also manually do it.
Money back guarantee
Looks like they have different approach which is better than money back policy, every user is given free  7 day trial to try out their service without giving any credit or debit card details.
Reputation
It's not a  good to take risk with new comers in this field, if they fail in this business all your website contents may go dark!
Fozzy hosting has been in this field for more than 4 years  with good number of happy and satisfied customers with them, so the  chances of them going dark are very negligible.
Payment methods available
PayPal
Master card
Visa
American express
Bank wire transfer
So how many websites they will host on a single server?
You may also like : Vine official plugin
To give blazing speed they only host 200 per server, info that not provided by any of the hosting provider.
As they know all our needs vary, fozzy have got different economic plan with instant setup for small business or blogs to forex hosting
Specifications of their shared hosting
Dell R520 servers with fast SSD drives, Dual Xeon E5-2430v2 or higher
96 GB RAM
1 GB of RAM for your processes
Impressed with their economic plans, by providing your website details they can move your blog or website to with almost no downtime at all.
Are you a webmaster or having web studio?
If yes, you can bag free hosting deal from them if your blog or website qualify their T&C.
3 data centers to choose from 3 highly internet users country namely
Concern
No information about the up-time offered, looks like they missed it on the plans.
Final verdict
With everything open, by this we mean the available resources for your plan which helps you to precisely choose what you really want  from Fozzy SSD litespeed hosting.