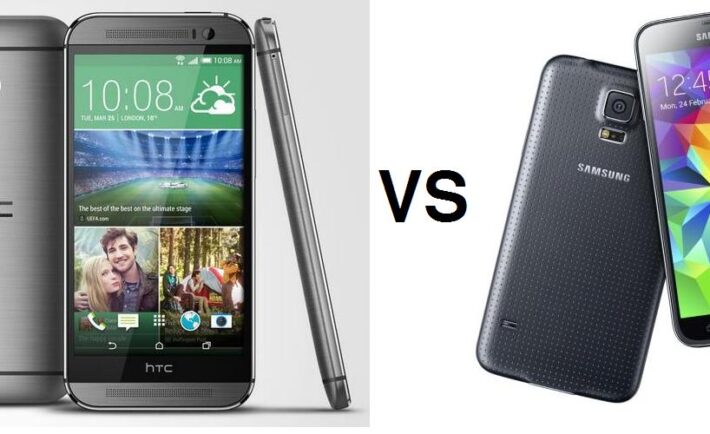 The world of smartphones keeps getting bigger, and better. Each year, we are bombarded with epic phones packed to the brim with features ready to outshine each other. Trapped in this raging war, we need to be well informed about the pros and cons of different models before taking any sides!
This spring, Samsung has come up with its latest offering from the galaxy S series, Samsung galaxy S5. It is a phone to die for. Well not quite actually. It is a phone which makes living worthwhile. Smoother and better, it sure promises to take the smartphone market by storm.
Giving it stiff competition is another phone from the house of smartphone bigwig HTC, the HTC One M8. It is a worthy successor to HTC One M7, loaded with more features minus the faults of the previous version. Without further ado, let's jump into the action and see who fares better!
Looking Samsung galaxy S5 vs. HTC One M8
Samsung Galaxy S5 has an interesting dimpled and textured back that gives it a much better look than its predecessors. The bendy plastic body, although being less prone to scratches and dents, might be a problem for some design-cynics who worship full metal bodies.
HTC One M8, having a near full metal body, gives a very sleek feel. It has completely discarded the trio of buttons under the screen earlier, being completely dependent on the on-screen controls.  The HTC phone comes in three different colors with lovely anodished finishes.
However, the feature that clinches it for Samsung is a standard called IP67 that ensures the survival of this phone under 1 meter of water for up-to 30 minutes. Though it may not sound much, but we all know the harrowing experiences we have had to go through after the accidental plunge of our phones in the toliet!
Core services of Samsung galaxy S5 and HTC One M8
Both the phones stack up neck-to-neck in processor types as they both use Snapdragon, Samsung's performance being slightly better at 2.5.GHz to HTC's 2.3 GHz. The camera, at 16 MP is what Samsung have worked upon a lot. HDR technology lets you take multiple shots with dramatic contrasty effects with staggering focusing speed of 0.3 seconds. It not only beautifies what your eyes can see, but brings out beautiful frames which they missed! HTC's 4MP Ultra pixel main sensor gives fine results too, but falls short when compared to S5's sumptuous  treats.
When it comes to battery life, which is a big concern these days since we use our phones for almost anything and everything, Samsung has introduced a feature activating which will turn its display black and white and barring essential functions like messaging and calls, internet access etc., it will lock down other functions that stretches the battery back up to almost 2 days!
Both the phones prefer the latest android 4.4 kitkat as their core software. Samsung has brought in a lot many features (too many to list!) which has given it more functionality at the cost of making it a little bit difficult to handle.(techies will lap it up, of course!). HTC ,on the other hand,  have kept true to their policy of less is more, with a few add-ons over the last model HTC One M7.
Added features of Samsung galaxy S5 and HTC One M8
The samsung S5 is loaded with features, from being useful and innovative to downright quirky! The fingerprint scanner is a welcome addition as it lets you handle all your PayPal purchases with the swipe of a finger. It sits just on the home button and the scanner guides you to the required perpendicular movement of the thumb.
Another out-of-the-ordinary app that S5 has is the heart rate monitor, which keep track of your pulse if you place your finger at the pad located on the back of the phone for a few seconds! These innovative way to keep track of your pulse rate is a sure fire way to get other app developers thinking!
HTC has clearly focused on enhancing utility of its model. The most welcome change is the presence of a microSd card slot which was non-existent earlier. It sits on the right edge of the phone, and will certainly work wonders for sales as buying a memory card is any day an affordable option to upgrading  to  a pricier version.
The BoomSound Speakers are another hardware upgradations that give a much better audio-with better sound,richer tone and more power to HTC as compared to other smartphones. However, they give the phone an unnatural length that feels slightly awkward when handled.
Considering all these specifications, the Samsung S5 clearly emerges as a hands- down winner. With better innovations, quality core processors and an exquisite camera, this phone is sure to rock the boat of smartphones in the sea of technology!
This is a guest post from Sanjay of Techgreet