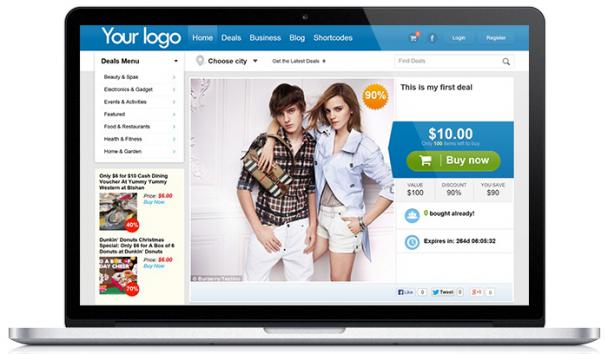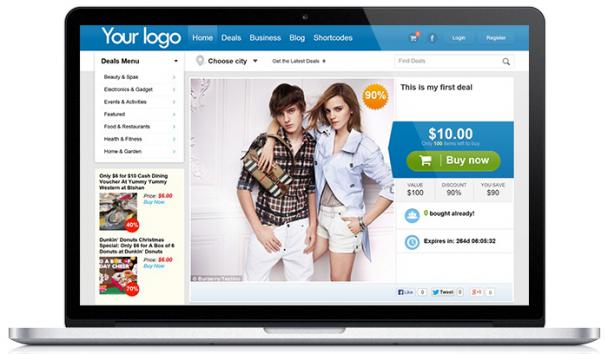 Online business especially a daily deal site is one of the promising niche in the web world that will fetch good amount of bucks even when you are asleep. One of the successful leader in this area is Groupon, probably the prominent one that we can say.
Many now think, how and where to start?
The very first thing you need is powerful deal site engine, a Groupon like theme which will help you to create a great looking, professional deal site within minutes.
One of the best option available to create a professional daily deal site like Groupon is WPGroupbuy.
" WPGroupbuy offers WordPress Theme & Plugin so you have an easy way to create and manage your own online daily deals website like Groupon. WPGroupbuy allows consumers to group together in order to obtain great discounts on products and services offered by merchants.

WPGroupbuy Team "
Your first impression will be "WOW" when you look at the theme and the demo site as the system looks spectacular, the team behind this powerful system has put in lot of effort to give every element of this theme the perfect touch.
Features of WPGroupbuy A Groupon like theme for WordPress
Responsive Design : First thing we will say that, WPGroupbuy is a responsive theme. What ever the device whether it be a desktop, laptop, tablet or mobile website will look amazing in all devices.
Merchant Account : Like any popular deal site in the world, the system gives the Merchants to manage their own shop, submit deals, manage voucher, check sales stats.

Deal Features: WPGroupbuy, Groupon like theme gives you really easy option to manage all your deals on your website created with this deal system.
– Add and manage deal easy
– Supports locations and categories
– Supports item attributes (color, size for fashion offers, etc.)
– Supports discount pricing
– Supports image slideshows for deal
– Shopping cart allows you to save the cart for later
– Supports guest purchase
– Tax and shipping rates
– Countdown timer
– Reward points & Referral program
– Email subscription integration & Email templates
– Subscription lightbox to collect client's email
Management Tools : Advanced management tools of WPGroupbuy theme provides help to manage every small element of your deal site quite effectively. Some of the management include orders, sales, payments, merchant accounts etc within this system.
Payment Gateway : The most important function of any deal site or any online shopping venture is how you manage the payment system. WPGroupbuy theme provides you payment processing option through PayPal and Authorize.net.
Other payment option details
– Support PayPal Standard, PayPal Pro, PayFast, SagePay, Stripe,
eWay, Authorize.net and Cash on Delivery (Offline method)
– Support multiple payment methods
– Allows sharing payment with merchant with PayPal Adaptive
– Supports onsite, as well as offsite payment processing
– SSL integrated
Customer Support : Highly trained support team make sure that all of their customers are guided properly, what ever their issues are. So you need not worry if some thing goes messy.
Template& Style Options : To make sure your site look unique and professional, WPGroupbuy theme comes with more than 10 page templates and 4 home page styles
The default WordPress login page seems moody for user as he try to register to solve this issue WPGroupbuy themes comes with custom login & registration page. The theme also gives you option to play around with color and font styles.
Whats more in customization ?
You can make a deal with WPGroupbuy team to customize the system as they offer the customization services.
Cost: WPGroupbuy, Groupon like system for WordPress deal site is not another WordPress theme, it is created with some specific need and tons of elements to run a successful deal site. The theme has been carefully crafted to make sure every small element works perfectly.
The pricing of this particular system starts from just $79, I recommend you to go through the various options available for each package very carefully before selecting the perfect package for your deal site.
– Bronze: $79 $99
– Silver: $149 $199
– Gold: $199 $299
– Platinum: $299 $399
Conclusion : I liked the simplicity and feel of the system as it is very professional and attractive. So undoubtedly if you are going for WordPress deal site WPGroupbuy surely will be your first and last choice.