Do you want to:
 access blocked or censored content from anywhere in the world?
browse the Internet privately and securely?
keep your data away from prying eyes?
If you answered "yes" to any of these questions, then ExpressVPN is perfect for you.
Chances are that you know what a VPN, or Virtual Private Network is. But if you haven't a VPN is the easiest way to access restricted websites, conceal your IP address to third party snoopers as well as mask traffic data you are sending out.
What ExpressVPN does
ExpressVPN enables you to access websites and services that might be blocked or censored in your particular location, such Facebook, Netflix, and Skype. It also hides your IP address and location, and encrypts your data so that nobody can know what you're up to online.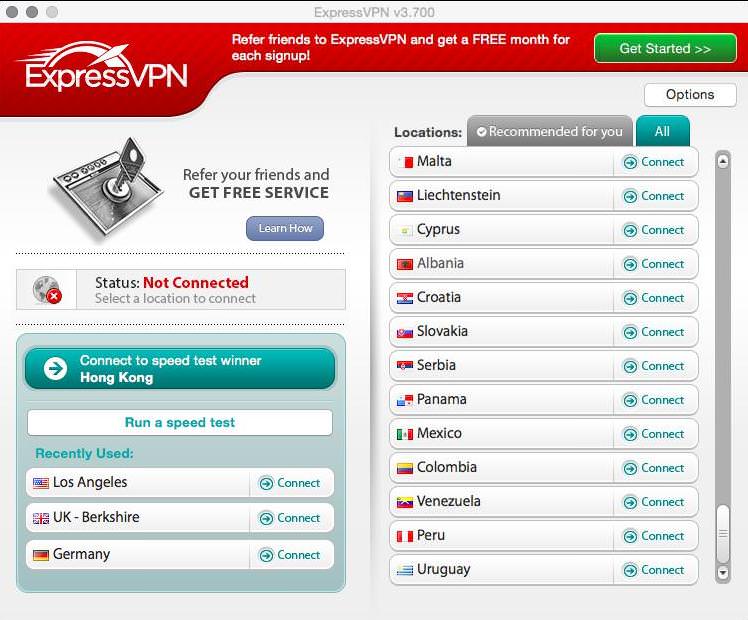 They have servers all over the world
With hundreds of servers in 78 countries, ExpressVPN is fast and secure, and the app makes it easy to switch servers when you feel like it.
The ease of use is perfect and allows for unlimited server changes (which some VPNs don't allow). As the screenshot below shows: It is literally a case of clicking onto your location!
Just look at their huge range of country server locations!
United States
Canada
Argentina
Bahamas
Brazil
Chile
Colombia
Costa Rica
Ecuador
Guatemala
Mexico
Panama
Peru
Uruguay
Venezuela
ASIA PACIFIC
Australia
New Zealand
Hong Kong
India
Indonesia
Japan
Malaysia
Mongolia
Philippines
Singapore
South Korea
Taiwan
Thailand
Vietnam
EUROPE
United Kingdom
Germany
Albania
Austria
Azerbaijan
Belgium
Bulgaria
Croatia
Czech Republic
Denmark
Estonia
Finland
France
Georgia
Greece
Hungary
Iceland
Ireland
Isle of Man
Italy
Kazakhstan
Kyrgyzstan
Latvia
Liechtenstein
Lithuania
Luxembourg
Malta
Moldova
Netherlands
Norway
Poland
Portugal
Romania
Russia
Serbia
Slovakia
Slovenia
Spain
Sweden
Switzerland
Ukraine
Uzbekistan
MIDDLE EAST & AFRICA
Algeria
Cyprus
Egypt
Israel
Morocco
Turkey
South Africa
ExpressVPN is easy to use
The sign-up process is straightforward and simple ("Get your plan in 3 easy steps!" says the website). Don't like their service after a month-long trial? They'll give you your money back with their 30-day money-back guarantee.
This is the only VPN service which allows this guarantee. Although Hidemyass says they also do, their terms are littered with conditions which makes this guarantee void – including if you use more than 10GB (easily done in a day!) of their data. ExpressVPN do not have such conditions in their terms, so as far as I am aware, no other VPN service offers this money back.
They've also got 24/7 live chat support in case you run into any hiccups along the way. I ran into some trouble and contacted their help center through live chat. Within 1 minute, an agent, Jay, had answered my question. As you can see, their support team is quick, and speaks English. Awesome.
One technique I use to check whether a company is legit is to see how often their blog is updated. Their blog is regularly updated, and I even found a selection of guides on their site which caters for beginners in internet security.
ExpressVPN is compatible with many devices
Best of all: ExpressVPN is compatible with a wide range of platforms and devices — Linux, Mac, Windows, Android, tablets, smartphones, and computers. Their apps are incredibly easy to setup and use (and good-looking), and their tutorials are clear and helpful.
ExpressVPN is quality
While ExpressVPN's services are only a couple of dollars more a month, you really get what you pay for. And what exactly is it that you're paying for? The maintenance and optimization of the hundreds of servers all over the world to guarantee speedy, secure, and private Internet access.