If your system have low storage capacity and because of which you carry external storage devices with your system then this post is going to help you in getting rid of low storage space problem(especially in Mac with SSD). In this post, we are going to discuss online data storage cloud service which comes with lots of exciting features which make it different from ordinary online data storage cloud services. Let us explore some of its features in details in below section of the post.
Exploring pCloud In Our Windows 10 Laptop
pCloud is more than a regular cloud storage services. Users can download its client software to their system, and through it, they can use it. Its client tool will create the separate virtual drive on the users system, and users can use this virtual drive like a regular drive as like it is part of system storage space whereas all the data will get stored in the user online pCloud account. pCloud offers some additional benefits too to its users and provides them personal and secure service. Let us discuss its features in some depth.
1) Virtual Drive: Users can easily use it on their systems through its client tools, these tools create a virtual drive on users system without occupying any space. Hence it extends users system storage capacity. Look at below snaps as you all can see, a separate pCloud Drive is there.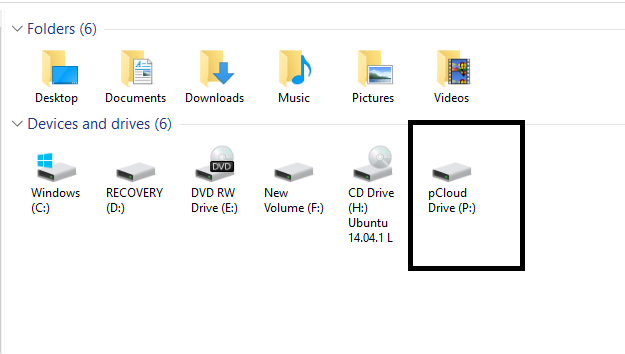 2) Automatically Synchronize: All changes made offline automatically take place online whenever the internet is available, there is no need to make changes manually.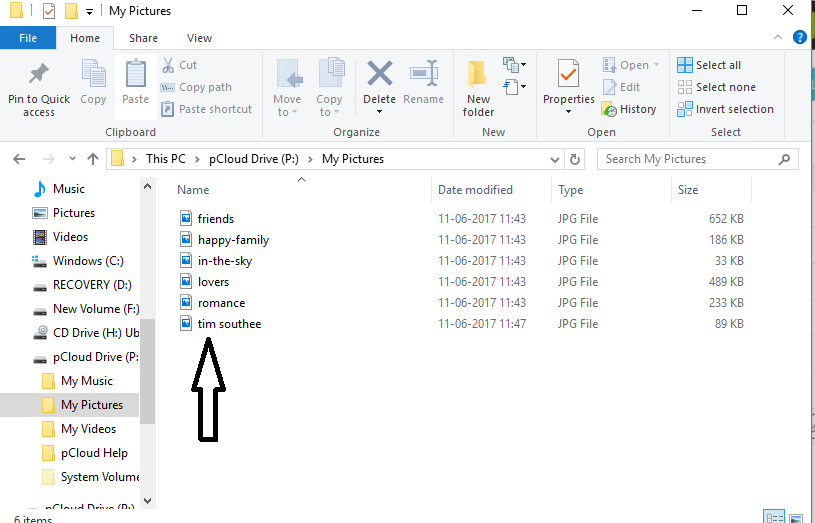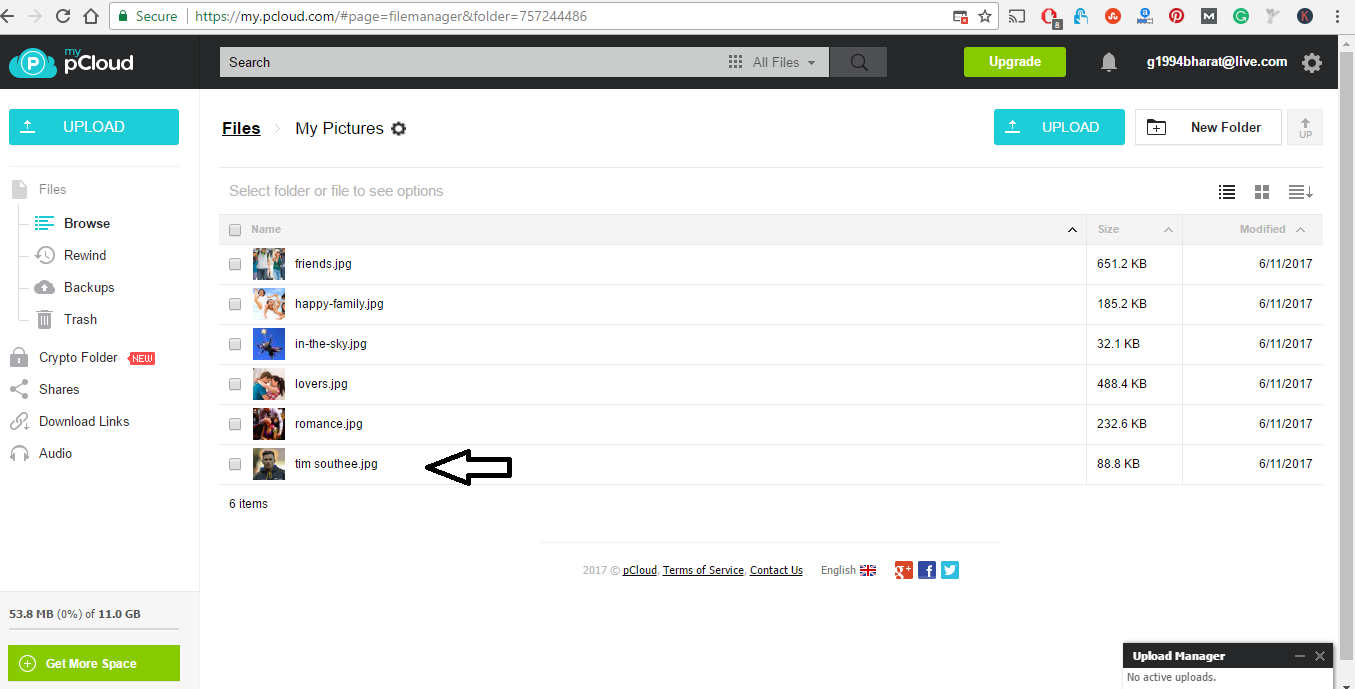 3) pCloud Crypto: Files saved in pCloud Crypto folder are secure and are hidden from rest of the world. Only the owner can access these files. pCloud Crypto folder is secure from everyone, even the administrators of pCloud cannot access the content of Crypto folder.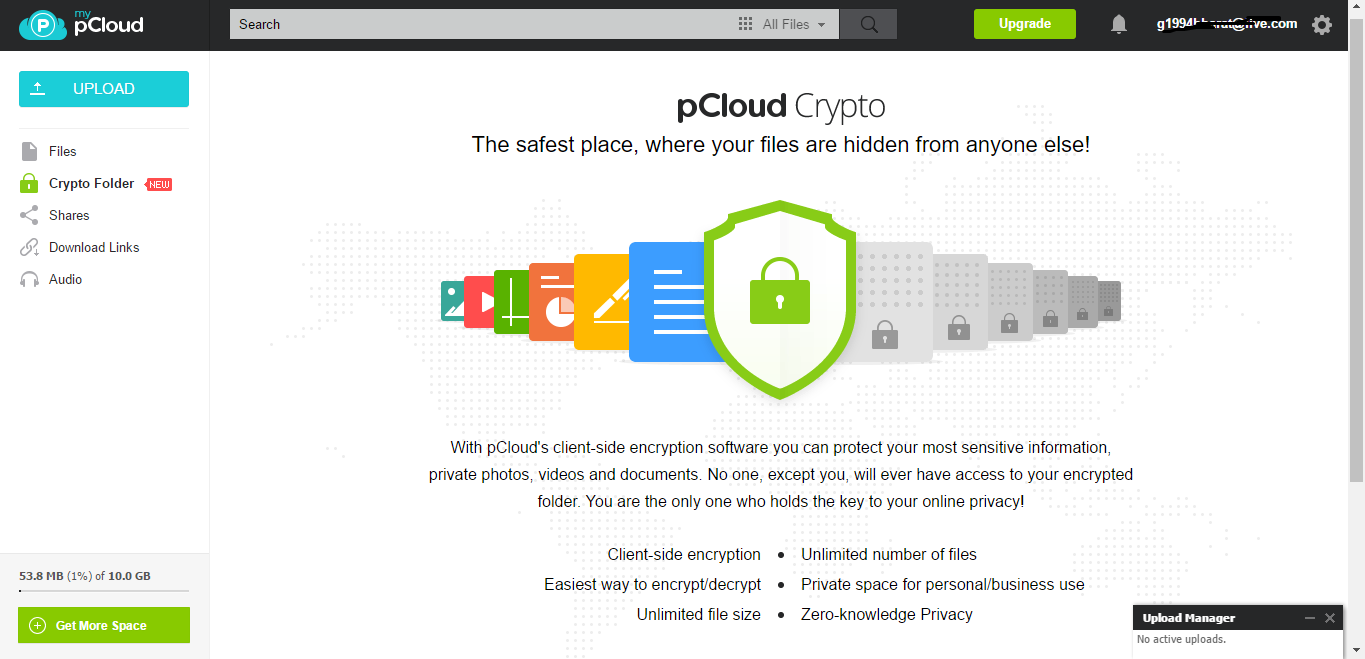 Once you upgrade to premium you can encrypt and decrypt the files easily, initial setup is needed, but don't worry it will hardly take 5 minutes. Just click on the "Crypto Folder" and fill the necessary details for generating your unique encryption key and click on "Create Crypto Folder".
NOTE : Make sure you write your Crypto Pass some where safe. Make sure you are using Chrome or Firefox for generating keys.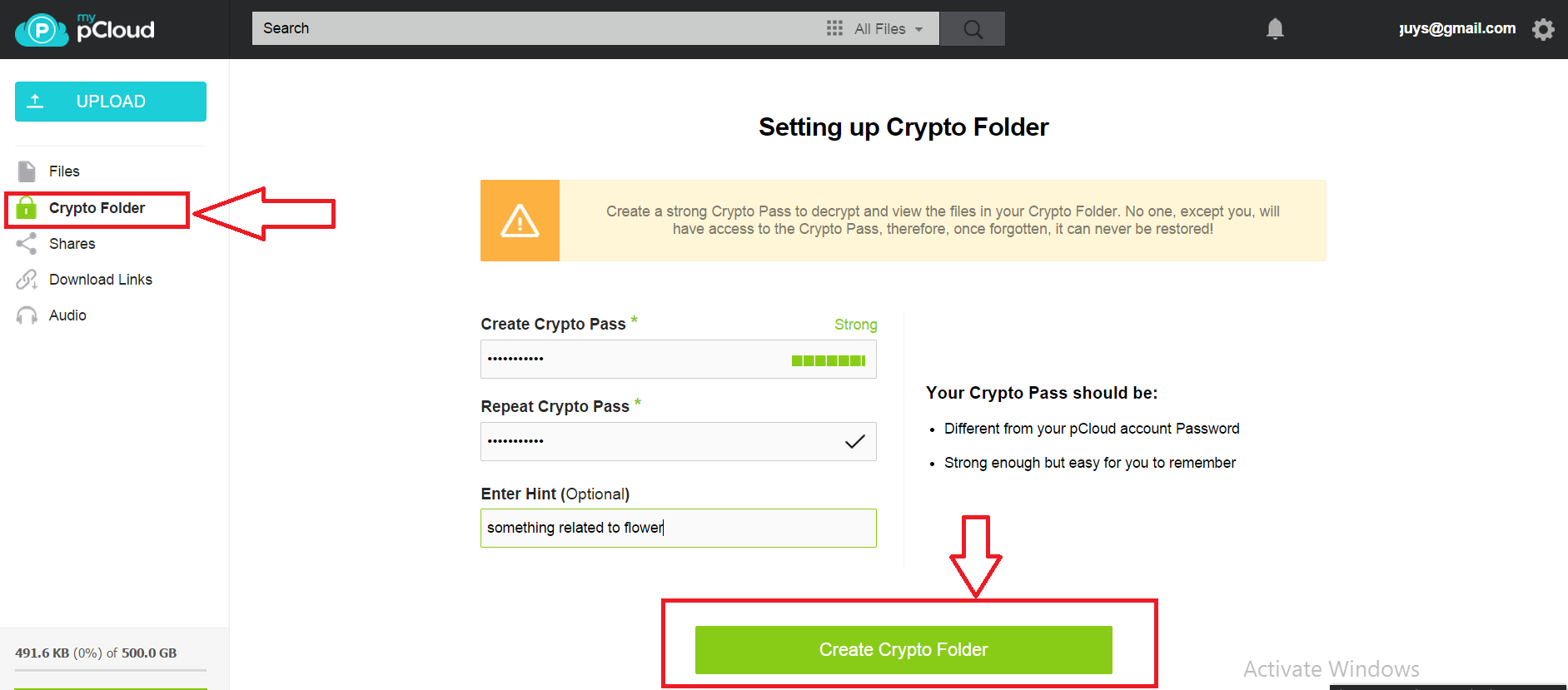 For Crypto Folders you can't remote upload files nor share those items to any one.
To make sure no one can access your sensitive files, pass code is asked.

Since the all the files are encrypted you won't see a thumb nail preview like you see in the other folder and here is a pic from our Crypto folder.

Don't forget to click on "LOCK CRYPTO" after completing your upload.
4) One Account for All devices: pCloud client tool is available for all types of OS like Linux, Windows, Android and MAC OS. Users can use one account on all devices and can enjoy same content on all devices. The web version of pCloud is also available. So that users can use it directly for browser
5) pCloud Rewind: It is a new feature of pCloud service which comes with the latest update. Through this option, users can get deleted data back(free users only 30 days data can be restored). It is like a time machine which takes backs its users back into old days (up to 180 days) and allows them to recollect all the deleted or changed important files. To know more about it is advised to visit this link.
Note : Dropbox only offers 30 days of file restoration.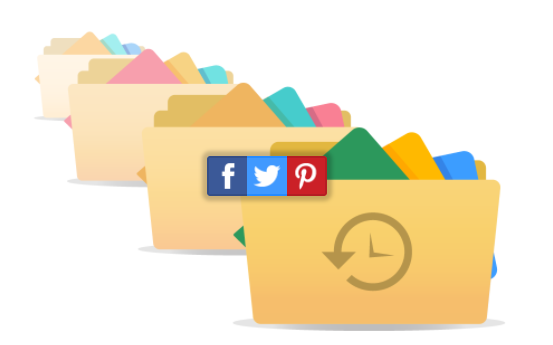 Did we try this feature ?
Yes we deleted the default files and some of our pics and here are the pics for proof.

Select the files and folders from the below list and hit the "Restore" the button, viola.
Once the file is restored you will find a folder like "Rewind"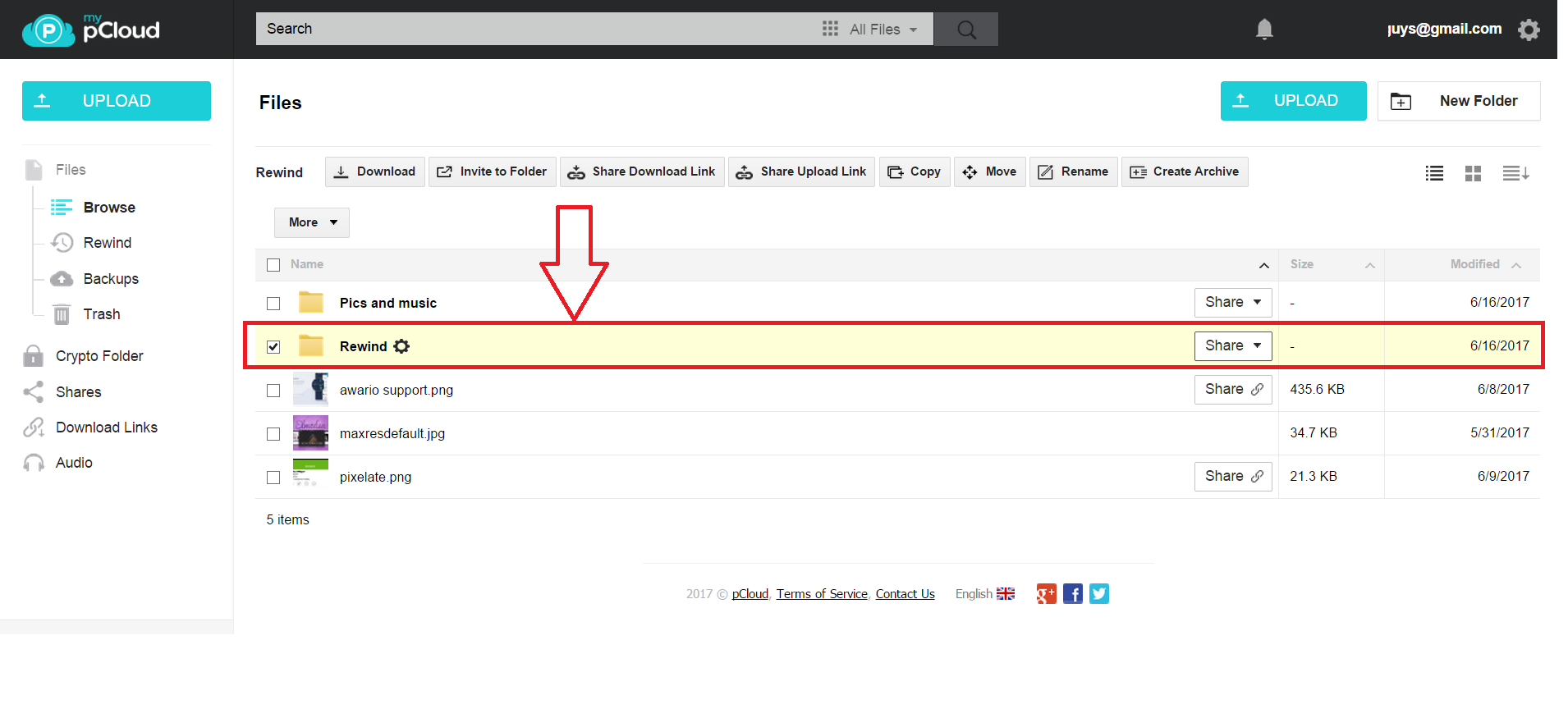 Here is the proof that all pics were restored successfully
6) Protection to download Links: Through it, users can share data with friends through shareable download links. Users can add extra protection to these links so that only desired persons can use it. Users can add password and link expiration period so that shareable link can use by authorized users within the limited period. To know more about it visit, this link. And you can see the stats for a particular file.
NOTE : You can also separate links for download and upload if the item shared is a folder.

You can even download an entire folder with multiple files in ZIP format or you can save it to your pCloud account for quick access.

You can also see the download stats of a particular file or folder as shown below.
Alternatively you can also see the stats from the left side bar.
Pricing
pCloud service is available in different packages. It comes with the free pack which offers 11 GB of storage space and some limited functionality to its users. And other paid packages come with more storage limit and features. Look at below snap for complete information about the pricing.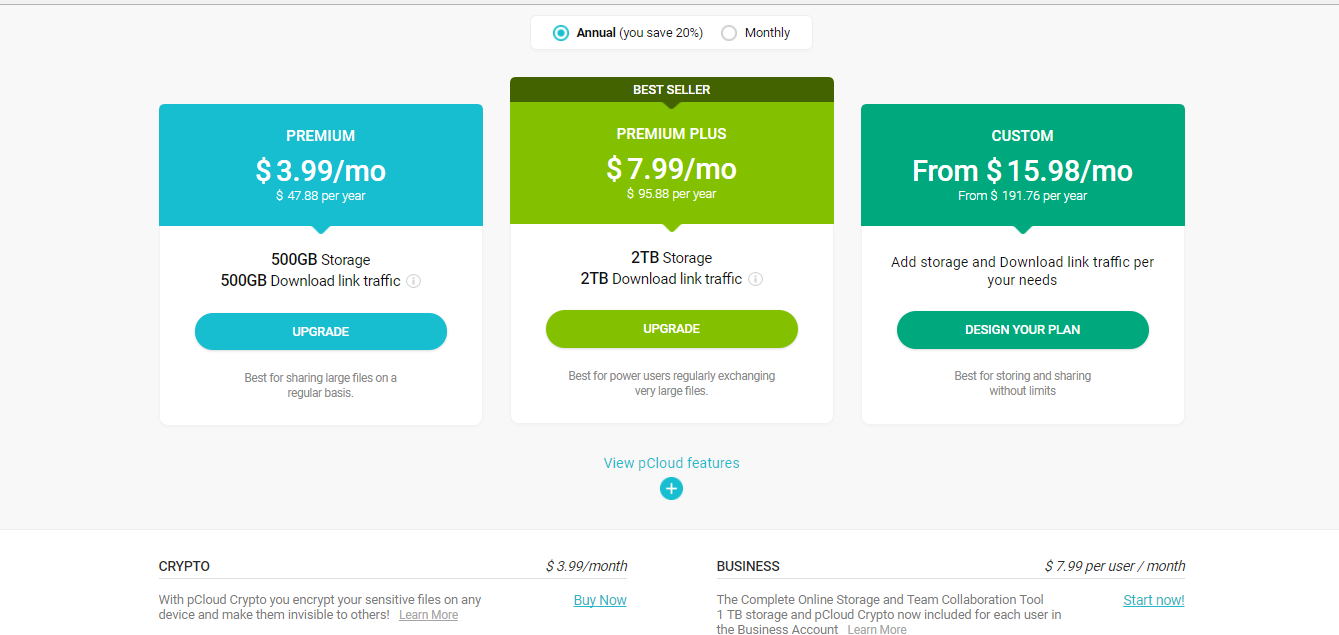 Final Words
Before saying goodbye let us highlight some pros and cons which we noticed while using it, read below points and take action accordingly.
Pros:
The list of pros is huge, and we will highlight only a few of those:
1) Its free version offer 20GB of storage space(onedrive promo) and works smoothly without any problem of loading or downloading of data. Virtual drive created works very fast and smoothly while using it you will never feel that you are using online cloud service.
2) Files can be accessed from any device with custom apps for iOS, Android, Windows Mobile and there is a Web version too.
3) pCloud Rewind features is a good option, it smoothly recover all the deleted files and its kind of unique.
4) pCloud provides some additional security features to its users like Crypto, link expiry period and password protection all these features are making pCloud more secure and reliable service.
Cons
The crypto option is good, but it is not included in any pack and customers have to pay separately to use this option. We think it should be included in one plan.
As you can see there is only one drawback associated with it, we didn't find any other cons while using it, everything is just perfect with pCloud, its mobile site, or its Android app everything works smoothly.