Your website isn't safe. Given that every day hackers come up with new methods to sneak into websites, not a single site on the web is safe.
What can you do about it? Well, if you are a WordPress user, I have got happy news for you.
In this article, I am going to introduce a security plugin to you, using which you can carry out 40+ security tests to trace out even the subtle vulnerability on your site.
More to read : Check Hacked, dangerous and vulnerable WordPress plugin
So, without further ado, let's get started.
WP Security Ninja Review
First, I will share a few features of the plugin with you. Then, I will demonstrate how you can install and use it for making your site secure.
Features of WP Security Ninja
The following are the impressive features of WP Security Ninja that I came across.
#1. Performs 40+ Security Tests
As I said earlier, there are countless ways to hack a website. As the salt on the wound, sneakers are coming up with new methods as well.
So, it is your responsibility to keep your site secure. That's why WP Security Ninja has integrated 40+ tests to their analysis. Once you hit the Analyze Site button, it will pass your site on to a series of tests.
The process will not take more than a couple of minutes. At the end, you will get the result. I am sure that it is impossible for an ordinary web admin to carry out these tests manually.
#2. Easy to Use
WP Security Ninja literally requires no skills. You don't have to be a coding geek to find vulnerabilities on your website.
The process of testing your site for security issues using this plugin is so simple that you won't be leaving the interactive dashboard of yours at any point.
Install the plugin, hit Analyze, and see the results. There you go! WP Security Ninja does everything behind the scenes.
So, you will not have any issues regarding the same.
#3. Takes Preventive Measures against Attacks
No, WP Security Ninja isn't just a plugin for analysis. It really can take action as well. Even if your site isn't hacked, it will scan for the vulnerable areas on your site, which may result in getting hacked.
Once the plugin finds out anything, it will take preventive measures, so that your site will never fall into the trap.
We all know the saying prevention is better than cure.
#4. Availability of Add-ons for Extra Protection
There are both free and pro versions of the plugin available. If you get satisfied with the free version, you can go on downloading the premium add-ons.
Right now, they have four add-ons.
How to Install the Plugin and Scan Your Site?
Here, I am going to show you how to install the plugin and scan your site using it.
Step 1: First, you have to log into your site using the proper credentials. In case you forget the password, you can use the Forgot password? link.
Step 2: When you get into your admin panel, go to Plugins>> Add new. Can you see a search field there?
Enter WP Security Ninja there.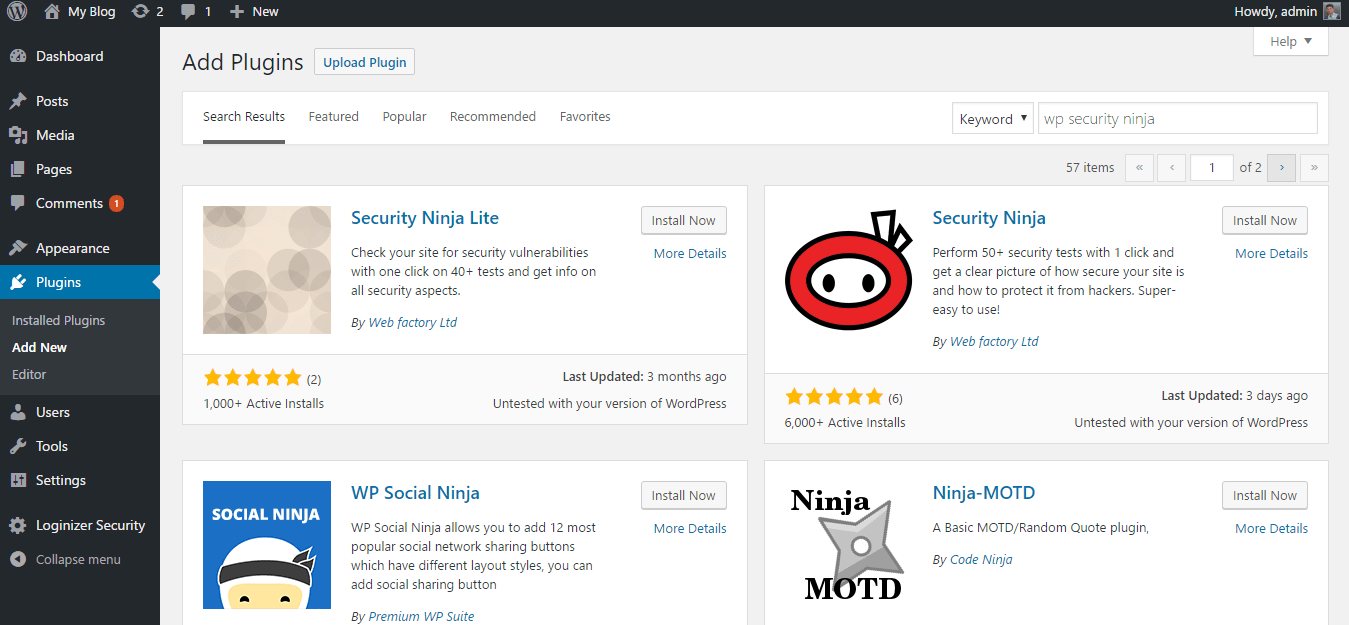 Step 3: The second result is what we want here. Hit Install and then Activate.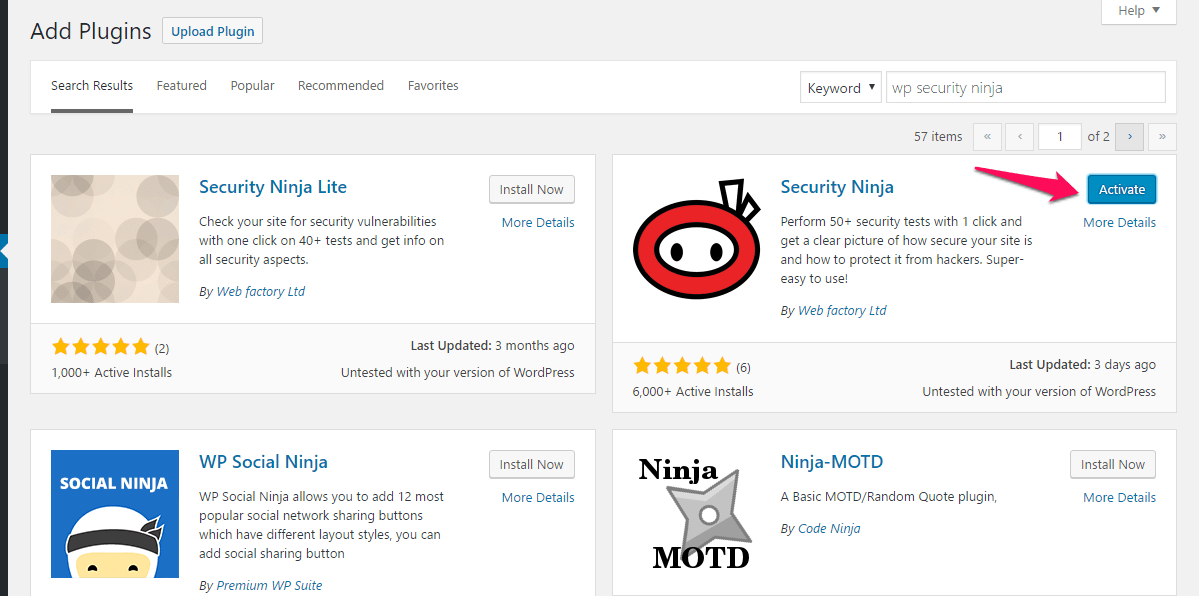 Step 4: Now follow Tools>> Security Ninja. You can see an Analyze Site button there. Click it without any hesitation.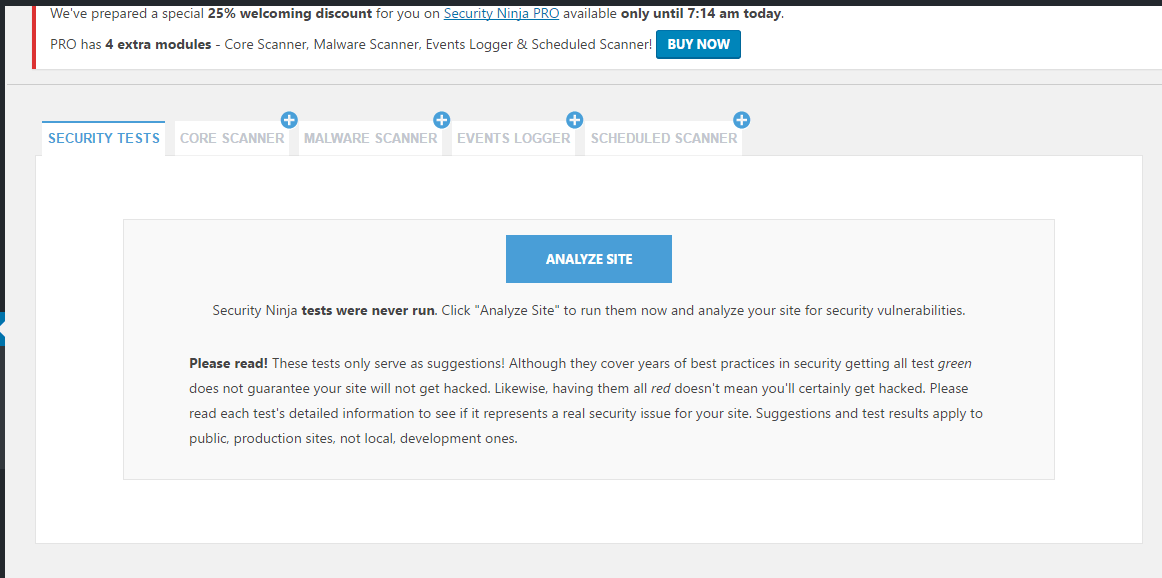 Step 5: The test will not go longer. Wait a few minutes.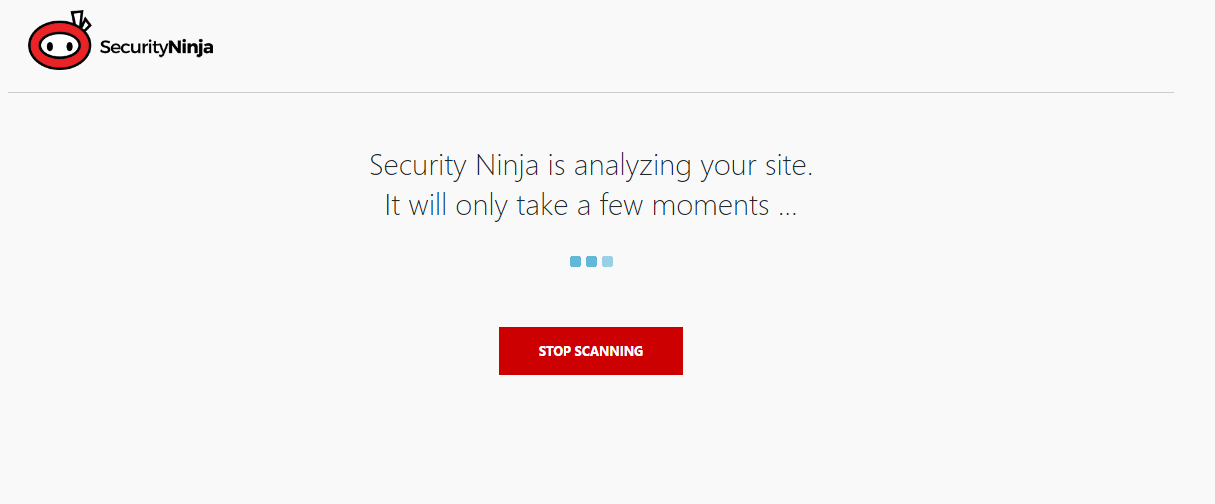 When the test finishes, you can see the result like the image given below. (I know the image is lengthy).

To the right of each vulnerability, you get a Details, tips & help button to know how to fix the issue.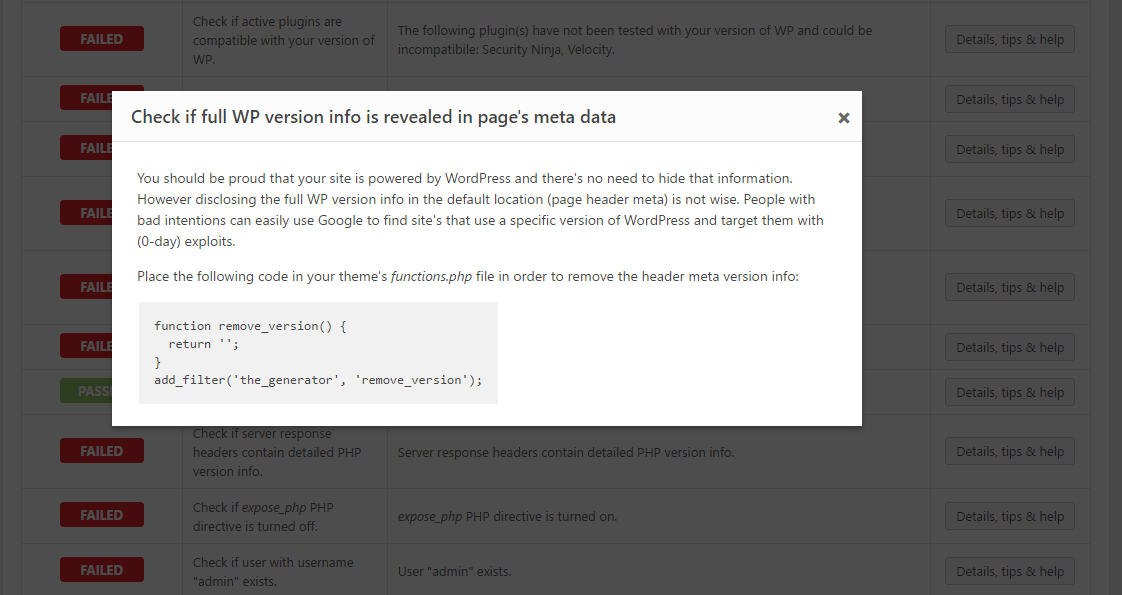 That's it! Just go ahead with the recommendation.
Final Verdict
So, what do you think?
If you ask me, I will say it is the best WordPress plugin I have ever used. Given that my sites got hacked multiple times even with some well-know plugins in the industry, I really think WP Security Ninja has got everything to protect our sites.
What are you waiting for? It is free! Go ahead and install now. You can move on to the pro version if you like the free one.