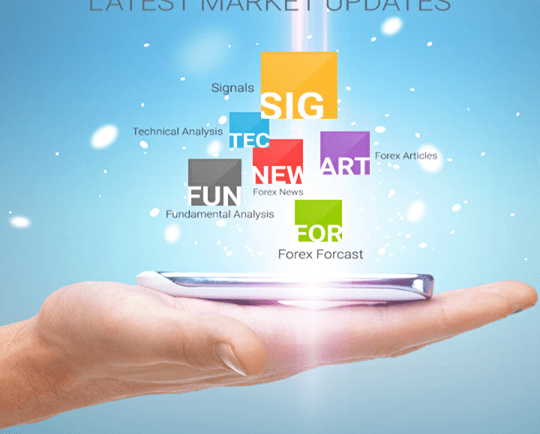 DailyForex is a renowned platform among Forex trader whether they are a pro or newbie. A person trading in Forex always prefers DailyForex because of its various useful features like Forex signal, articles, analysis, etc. DailyForex has a big number of daily users and to help its users more DailyForex has launched the mobile app called DailyForex. Its mobile app is available for both Android and iOS users and in this post we will focus on its Android version only.
Features of DailyForex Android App
It is very important to learn about the features of the app before downloading it and hence we are providing some features of DailyForex App.
1. Through DailyForex apps users can get regular updates of Forex trade, currency pair. Users can get detailed Forex analysis and Forex Signal through it. All these things are very helpful for all types of traders from new to expert.
2. The expert analyst's team of Forex track the charts for various major currency pairs and commodities like EUR/USD, EUR/JPY, USD/JPY, AUD/USD, Gold, etc.
3. Free Forex Signals are also provided by the company. Experts from the company provide free advice about selling and buying of currency pair which can prove very helpful in earning good profit.
4. Various free articles are also provided within the app. Various topics like psychology, Forex trading strategies, risk management and more are covered which are helpful for all types of traders.
5. Users can go through a quick Weekly recap from across the Forex, currency and commodity markets so that they can make their strategies accordingly.
6. Users can dig into more technical analysis of the market and can enjoy some services like Weekly Forex Forecast, Gold Price Forecast, etc.
7. DailyForex mobile app is launched by the company with an aim. Their goal was to make Forex trading easy and handy.
And to make it easier, some useful tools are also provided within the app like.
1. Economic Calendar: Through this users can easily get an idea about dates of all the key Forex trading events.
2. Live rates: Through it, users can quickly check live prices of currencies, commodities, etc.
3. Currency Convertor: Through it, users can easily convert one currency into another within the app only.
How DailyForex App Works?
If you want to get an idea about the interface of this app, then you should read this part or otherwise you can skip this part.
1. Opening the app for the very first time you will get the following screen. As you can see the DailyForex mobile app is available in multiple languages.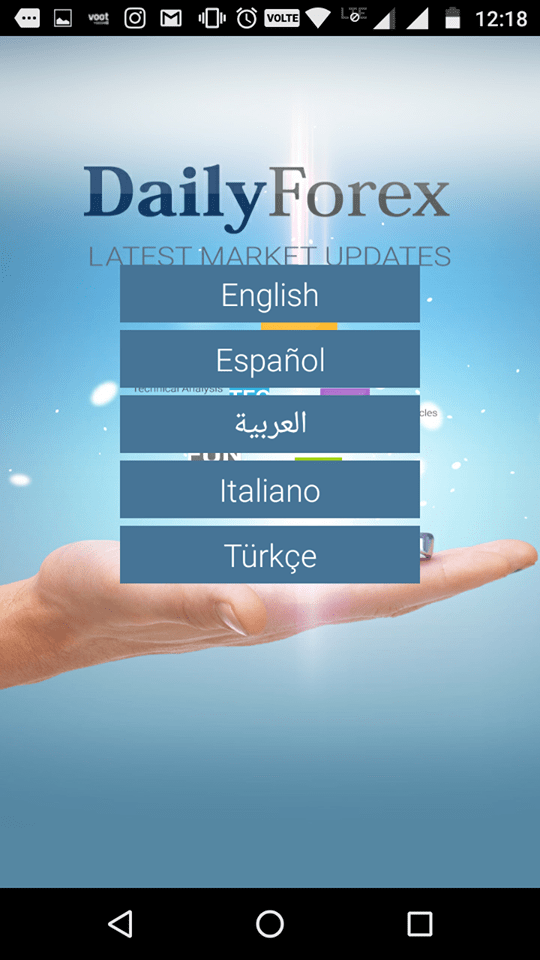 2. After that, users have to create an account, or they can skip. (we are skipping here)
3. That's it, its all done here is a picture of the home screen of the app. From the home screen, only users can get Forex signals, Forex News and Forex Technical Analysis.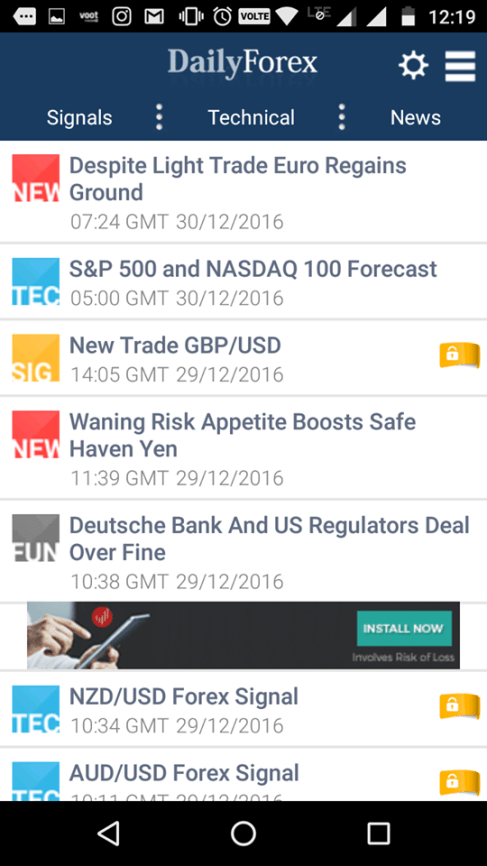 4. Forex Signals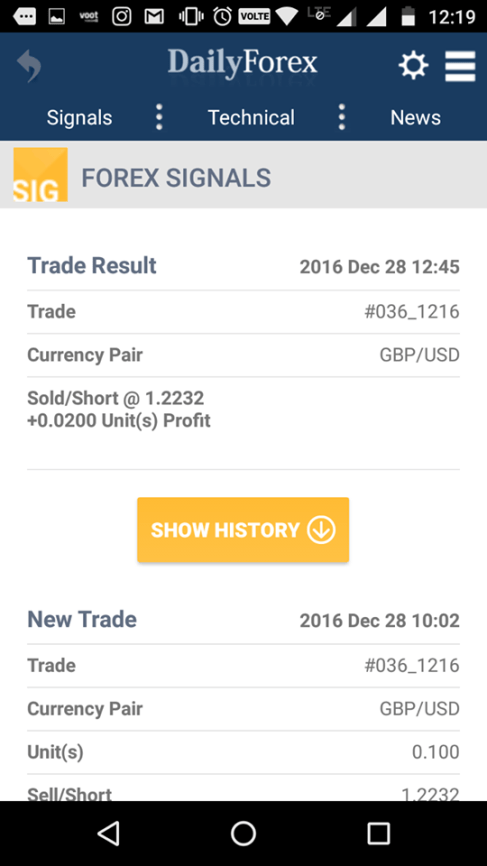 5. Forex News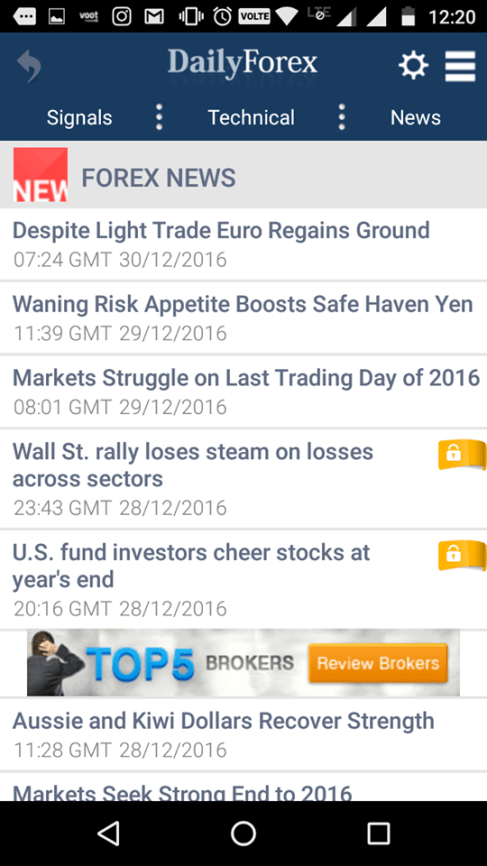 6. Forex Technical Analysis
7. In menu option there are more tools available which are very helpful for users here is a snap of the menu option have a look.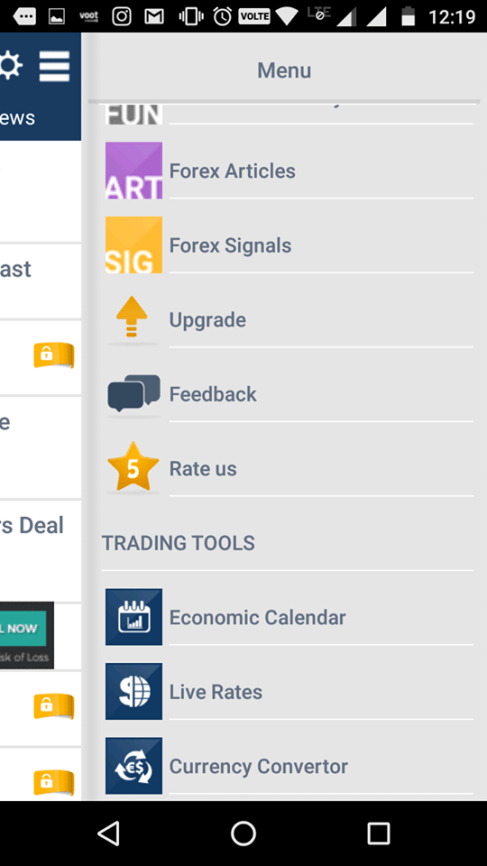 Over to you
Due to words constraint, we have to stop here, but we will help you more in decision-making by providing some positives and negatives points.
Positives
1. DailyForex is a free service.
2. It provides free Forex signals which are very useful for both expert and new traders.
3. DailyForex app is available in multiple languages which is also very good.
4. Some tools like currency converter, economic calendar, etc. are making trading very easy through it.
Negatives
The only thing which we did not like about it is its response time, It should be more responsive. The app should load within a click.
As the developers are working very hard on DailyForex app and bringing regular updates so, we can hope they will remove above bug in future. You can try it once if you trade in Forex. One thing which we would like to mention is that it is available for both Android and iOS users so anyone can enjoy it.