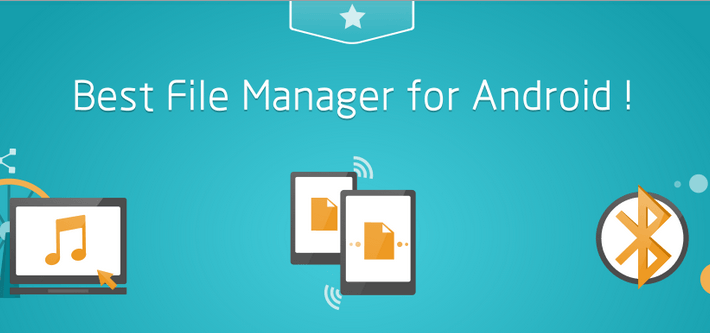 File manager is something that doesn't come in every android phone and we have to make use of an android app to manage our music, video, photo and various other files. Now finding a good file manager for your android device is difficult as there are number of file manager with different features available in the Google PlayStore. What if there is a free file manager with wide range of features ?
File Expert with Clouds developed and published by Geeksoft is one of the top free file manager with way to connect to your cloud accounts, FTP and tons of other features.
Features of File Expert with Clouds free file manager from Geeksoft
The very first thing we have noticed is the capability of the app to auto organise your photos, videos, apk, documents, music etc to each of the respective folder named as Videos for video and so on.
To make your tasks simpler and easier File Expert with Clouds comes with tabbed management in which you can access My Files tab for getting a glimpse of the auto arrangements as told earlier. The My Files tab also lets you to know the disk usage stat which can be accessed from the bottom left of the screen. The next one is Folder tab which lets you to explore various files from the SD card or phones internal memory. To make the file transferring simpler and faster My Tools tab provides you with various options to choose from in File Expert with Clouds android app. My tools also incorporates a usb free file transfer for your device called Web PC Suite. We have already reviewed Web PC Suite android app. One touch clean tool that comes preloaded in the tools category lets you to clean up the browser histories, empty files and temporary files is another added advantage of this android file manager. To change tab setting click on the footer gear button >Tab settings
Syncing files
To make sure that you don't loose your important files, File Expert with Clouds lets you to Sync the files to various cloud storage namely G Cloud, Google Drive, Dropbox, Box, Sugar sync etc. To connect to the cloud go to My Files tab and select My Clouds. Then hit Create New Account, select your desired cloud storage and authorize it. Then long press a file that you need to send to cloud, select sync to G Cloud. Job done!
So are there any ads shown in the free version ?
In this case we can say that instead of showing picture ads in the footer that you usually see in the other free apps, File Expert shows only app icons like Camera360 that you have seen in the above picture.
You may also like : Camera360 Review
Other features of File Expert with Clouds that comes handy in the ultimate file manager app for android
ZIP/RAR/GZIP/TAR/TGZ/BZ contents can be checked without decompression
Built in web browser for quick surfing
File Expert file manager can be moved to your SD card
FTP Sharing helps you to turn your mobile phone into a FTP Server
Supports all basic file operations like Copy, Cut, Paste, Delete, Create, Sort,Rename, Send, Details, Favorites, Hide, Create Shortcut. Batch operation and more
Safe box feature helps you to store secret files
Various optimization and fixes offered in File Expert with Clouds V6.2.5
Optimize the function of Send via Wi-Fi, set new interface and specific guideline
Fix problem of failing to copy Chinese files inside a folder to Dropbox
Fix minor bugs
Note : Some features of like Root Explorer,Safebox,Memory Manager,Recycle Bin can be accessed by paying a small amount
Final Verdict
With many features to try out for managing your file easily and efficiently, the free android file manager called File Expert with Clouds from Geeksoft is well worth the consideration.
Download File Expert with Clouds for mobiles
Download File Expert with Clouds HD for tablets