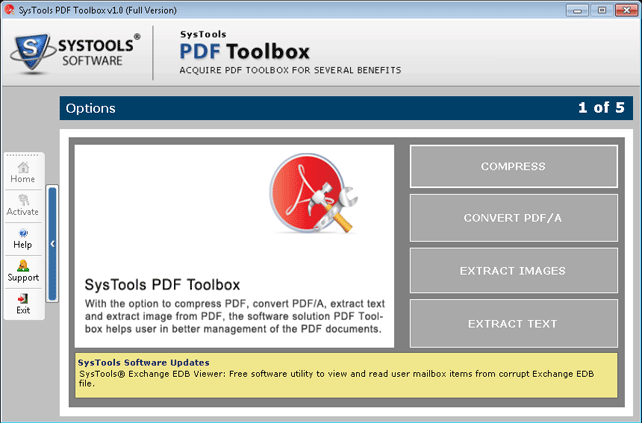 This online review for SysTools PDF Toolbox software product version 1.0 might prove useful for all and forensic investigators in particular across the world. This is because the tool is a remarkable one that deals with PDF files, the most widely accepted file format for reliable and safe storage of important data. The application assists users in managing PDF files as whole as well as its text data and images. It is specifically designed for use in forensics to handle sensitive and critical crime scene information to reach out to the criminals.
Important Functionalities Of The Application
Let's have a look at some of the important functions that the application software can perform:
One Tool Multiple Tasks
Can Compress PDF file that reduces the file size
Can Convert PDF files into PDF/A file format
Can Filter out  images from PDF file type
Can Extract text from files of PDF format
Can Add text data in any page of PDF files
These are the five most significant roles performed by the tool with which it assists users from all walks of life such as researchers, students, etc. in general and forensic detectives in particular. It is because these practicalities are most often required by the investigators for sharing it to their co-workers or to present in the court of law as evidences.
System Prerequisites Of The Software
Now let me draw reader's attention to the system requirements so as to be able to run the application on their operating system to make the best out of the tool, because these are the things that are required in advance for successful operation of the software and they are:
| | |
| --- | --- |
| Support for Operating System | Windows 8.1 and all below versions |
| Processor Requirement | 2.4 Ghz |
| RAM | 1 GB |
| Hard Disk Space | 5 MB |
Table: System Requirements
Note – The HDD space needed is only 5 MB to install the tool because its size is too small of about 4.9 MB.
Inference Drawn – From the above given information in the table, an inference is drawn that the system specifications that the tool demands are minimal which is available in about all PCs. Hence, it can be downloaded and installed on most OS to achieve the promised purposes.
After knowing the main functions supplied by the concerned software and the machine essentials required by the application its time that we explore the features in detail so that people at large can acquaint themselves with the minute details. This would facilitate users to exploit each and every characteristic which would definitely aid in accomplishing great results.
Acquaintance With Characteristics That The Tool Furnishes
– Converts PDF files into PDF/A format in Bulk – Multiple PDF files all at a time can be changed over into PDF/A file type. Through this conversion PDF file content can be accessed in several not so big mobile devices.
– Selectivity option of PDF files provided for image extraction – PDF files can be selected from which required image has to be extracted or all files can be chosen to filter out images.
– Allows extraction & addition of text in several PDF files at once – The tool allows addition and extraction of text in various PDF files all together which in turn saves time and makes work faster.
– Alterations can be done on all PDF file pages; be it even, odd, range or specific pages – Variations can be employed on all pages of the PDF file without discrimination to any particular page grounded on the basis of page numbers being even or odd.
– Supports all Adobe Acrobat Reader versions including 11.0 – The Adobe Acrobat Reader is available in several versions and so the tool is developed in a way to support the latest as well as below editions.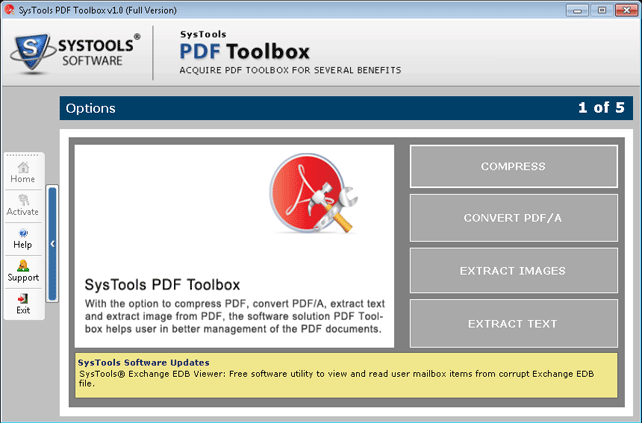 Setting Options That Makes The Tool Unique
Each of the main functions that SysTools PDF Toolbox renders incorporates within themselves enhanced setting options. The 'advance settings' turns out to be extremely useful for end users and makes the tool unique amongst similar applications developed by other companies. Some of the setting choices that can be benefitted in terms with the necessity and requirement with the product are mentioned below:
Besides text the position of images can also be adjusted in the pages of the PDF file
The page numbers in the pages of the PDF files can also be set accordingly
'Text' as well 'image' can be added on header or footer of the files as per need
The image size can also be managed easily that has to be stamped in the PDF file
Note – The features and functionalities that are cited above in different sections of this page is all that the software application boasts of. One can even try using the tool before actually investing in it.
Demo Version For Users Satisfaction
Trial Edition Available Free Of Cost – The demo version can be downloaded at zero pricing on any Windows system to manage the PDF files created by any release of Adobe's Acrobat Reader including 11.0 which is the latest. The free release lets you utilize each and every characteristic with the exception that worked upon PDF files get saved with company's watermark. The other limitation is that only first half part (half number of pages) is processed for 'Extract Text' option.
Purchase Full Release
Licensed Edition For Saving Without Watermark – The full version can be purchased to overcome the restrictions met with demo release which is available in three types of activation keys. The information about the three licensed forms with price index is as follows:
Personal License – 69$
Business License – 299$
Enterprise License  – 499$
 Note – Depending upon use any of the licenses can be purchased.
Support Provided For Clients
To get any kind of aid on the software, the support team can be reached out as the Company extends assistance via live chat, email and even phone call. Users can log on to www.systoolsgroup.com to get the details for email addresses, phone nos., etc.
Inference Drawn
Conclusion can be drawn that SysTools PDF Toolbox is one stop solution for managing PDF files. It serves the entire roles in the best possible manner it is supposed to do but one problem associated with the tool is that it is supported only on Windows OS. Nowadays many new operating systems are evolving that have been widely adopted. Hence, the tool is no doubt a great boon for PC users but does not help Mac and other OS users in any way. But to this exception, I would definitely rank the tool 9 in a scale of 10 because it performs incredibly in Windows system.