Nowadays with the technology developing at a breathtaking speed the majority of people prefer to perform ordinary video conversion tasks with web-based applications or use primitive one – function converters. Besides a lot of popular gadgets support almost any video format and the demand in video converting tools lowers steadily. Who knows maybe in the near future video converter software will disappear as a class. But we believe that video conversion monsters well known all over the world will survive in the global market.
Let's examine AVS Video Converter, one of most popular converters, and find out all its benefits.
First of all AVS Video Converter has a user friendly interface. You don't have to be an expert to use the program. It is simple as 1,2,3. Just upload a video from your computer or drag and drop it to the main window. Choose in what format you want to convert it, press the button Start converting and you are done. If you don't know what formats your gadget supports, you can switch to the tab Devices and select yours from the list (iPhone, iPad, iPod Touch, Samsung, Android tablets, Sony PSP, Amazon Kindle, etc.).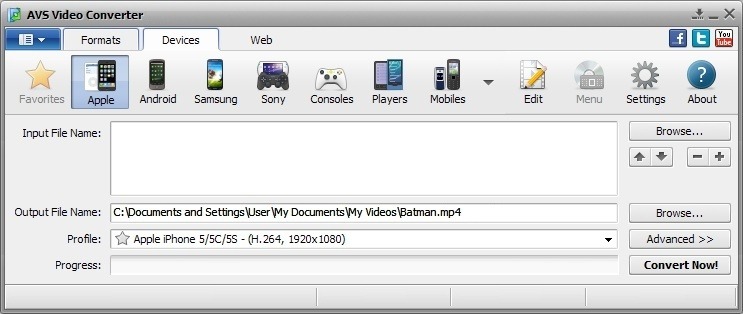 Although AVS Video Converter is an easy video conversion program it will satisfy the demands of advanced users as well. It allows to experiment with conversion parameters such as bitrate, sample rate, frame size and others. Moreover you can create a custom conversion preset, save it and use for your ordinary tasks. What really impresses in AVS Video Converter is a large number of ready predefined presets. They are designed depending on the quality of output videos. It is a really convenient feature.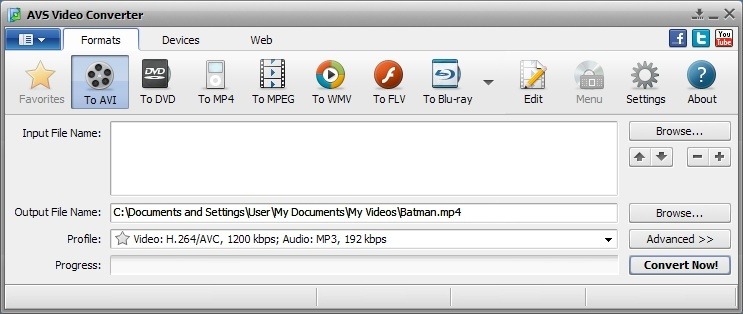 One more advantage of AVS Video Converter which is worth mentioning is conversion for popular video-sharing websites YouTube, Facebook, Vimeo, Dropbox, Photobucket and others. When the conversion process is over it is possible to upload the freshly created videos directly to various web albums.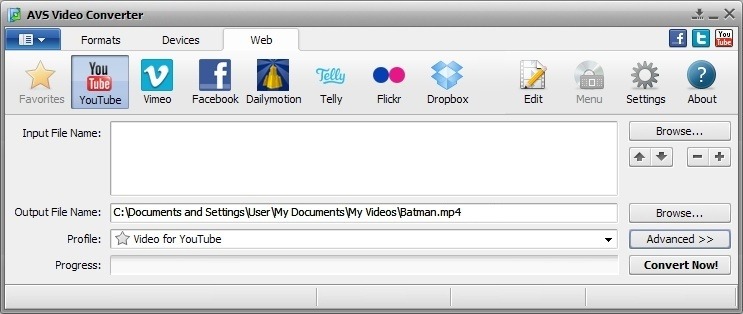 In comparison with competitors AVS Video Converter keeps an ace up its sleeve. It is an all-in-one conversion and editing tool. The 'Edit' button is located on the Devices toolbar. The program has all basic video editing functions. You can cut, trim, merge video files and add special effects to the image stream and the audio track in your video file.
Drawing the line we must admit that AVS Video Converter is a very reliable program that guarantees high conversion results. We wish it had a version for MAC but the converter runs only under Windows platform. The product is regularly improved and we'd like to unveil a secret to you. The release of an enhanced command line converters is to be expected this summer. Stay tuned and check announcements at the official website avs4you.com .