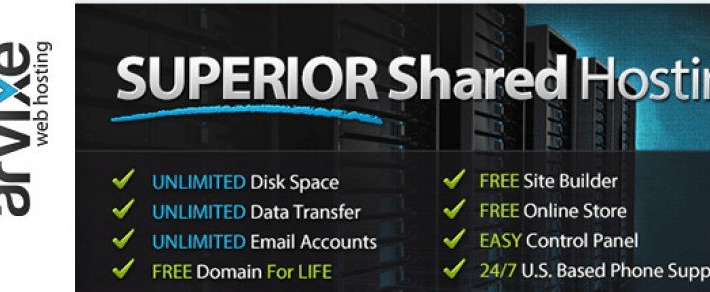 In an idea of starting a website or blog?
So what is the most important thing if you are choosing a self hosted WordPress content management system for your website? Of course its a place from where you can run the WordPress content management system. For this choosing a host it is now a tough task as there are number of hosting providers ranging from free to premium. Free is something that everyone will be looking for, but we recommend you should stay away from free hosting providers as they can go dark at any time. Next category is the premium one. Arvixe web hosting is one of the main player in this section.
Lets see the features of an unlimited web hosting provider, Arvixe

The very first thing we noticed is the support offered by them.
Live chat support is something that many hosting providers miss or don't have. But Arvixe hosting makes sure that their customers get instant support by providing live chat to their clients. It can be accessed quickly from their main website. What if live chat could not answer your query? You can get support by their email ticket system which gives the right answer to your query quickly from highly experienced customer support agents.
Money back guarantee
What if you somehow had a bad experience with Arvixe hosting? Is it possible to get your money back? Yes, you can get a refund if you are unsatisfied with them. Unlike other hosting providers which only offer 30 days money back, Arvixe offers you refund if you wish to cancel their service within 60 days of your hosting account activation .
Uptime
This is something that you really have to look at to determine how much time your website remains on-line, for a period of 30 days. Arvixe hosting has been providing an uptime of 99.9%. If Arvixe hosting fails to keep this uptime for your website you qualify to receive a refund on that month's hosting fees. Which really is value for your money.
Free domain name with every account
Arvixe offers you free domain name for life by choosing any of their hosting packages, as long as you renew your hosting plans with Arvixe web hosting . Arvixe's billing control panel helps you to control various aspects of the domain name.
Discount on the renewals
Many hosting providers give discount only for a month or year after which the renewal occurs at normal rates. Instead of that Arvixe offers you great discounts on each renewal which will be automatically added by their system.
Automatic set up
After making the payment of the web hosting plan of your choice, leave the rest to Arvixe as within few minutes you can can start work on your virtual hosting account.
When you are considering shared hosting for WordPress or Joomla from Arvixe hosting, which plans do they offer and what features comes with each plan?
Currently Arvixe offers two plans called PersonalClass and PersonalClass Pro. The only difference is that the Pro plan lets you host an unlimited number of domains for just $7 per month. The personal plan priced at $4 per month allows you to host a maximum of 6 domains.
What other features does each plan have to offer?
– Unlimited disk space let you to store any number of files and unlimited bandwidth makes sure that you never run out of it. – One click CDN set up in cpanel, with Cloudflare, makes your blog or website faster in loading. – Since Attracta seo tools are also provided, getting into various search engines is easy. – Free $175 in total ad credits lets you to show your place to the world. (Limited to US and Canada)
After reading all of this do you think of moving to Arvixe, but don't know how to move your website and databases from your current host? Don't worry Arvixe will do all that's needed to move the website from them free of cost.
Conclusion : If you need unlimited disk space and bandwidth, with a free domain for life, web hosting from Arvixe is a great deal.