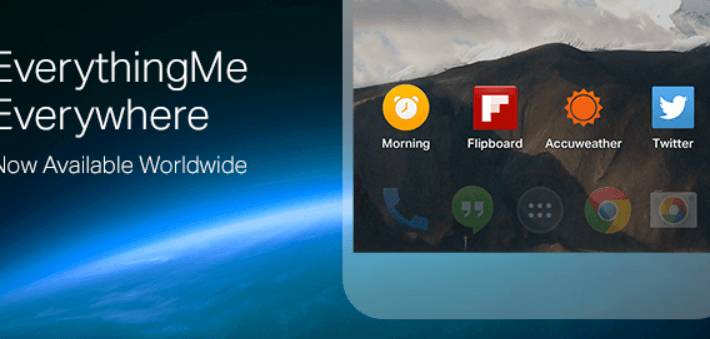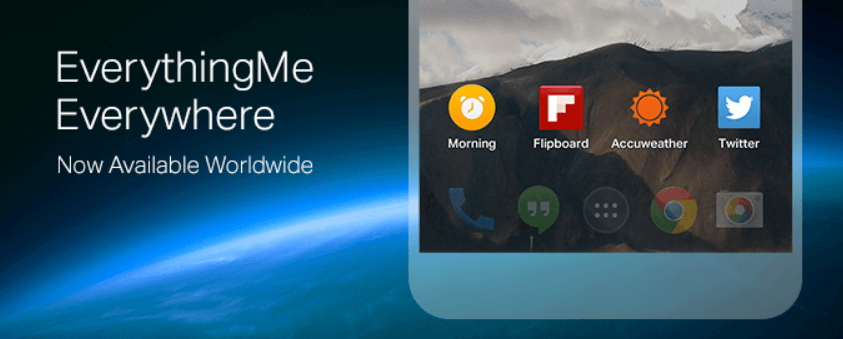 Android launchers are the simplest way of tweaking and customising the way you interact with the smart devices to get what you want swiftly. But most of theses launchers lack automation in arranging the apps in our devices to the respective categories. This is the place where a new android launcher called Everythingmeoutsmart others in the list. Rather being just an android launcher Everythingme is smart as your smart devices.
Features of Everythingme, contextual free launcher for android
The Prediction Bar™
The highlight feature of Everythingme is the prediction, like which app you will be using at a specific time for example News apps in the morning, movie apps in evenings. The 4 icon prediction bar just sit above the menu button in homes which gives you a quick access to the relevant app at the time of need. The left most icon in the smart bar changes with time of day giving you a quick bites in the form of cards. After installation prediction bar just display recent apps but as the time passes prediction gets better like the SwiftKey keyboard.
Smart Folders™
Make your home screen organized automatically which helps you to maintain a clean home screen. The intelligent cards provided in the folders pull necessary information from the web which puts before you in a simple concise manner. To see it in action choose the News or Sports folder which comes default in installation, screenshot from News folder below.
Other than pulling out the necessary information Everythingme also suggests you with apps that are appropriate for that particular category. Like PayPal, Groupon, eBay for the shopping category.
Now you will be wondering what's that "Quikr Sponsored "? Without ads no free app can move forward unless its funded.
All in one In-Phone Search
Like any other launcher app Everythingme has also got a search bar that's placed above all the icons in the home screen. We tried a simple query in search bar " food"  without quotes, wow we were amazed to see this
In addition to doing a deep in phone search ( contacts, apps) Everythingme android launcher suggested us by showing relevant apps related to food and " more from the web" gives you the websites that are relevant to your search ( ie Everythingme does a wide search in the world wide web). Another added feature of search bar is that it also lets you to do search in the messages.
You may also like : Increase photo quality of your android
Other features of Everythingme app
You can get a wide range of wallpapers to touch up your screen. To get it go to settings > change wallpaper
There is also an option to import from the previous launchers. For that Go to settings >preferences > import from previous launcher
You can also set up to 7 home screens from the preferences option.
Good transition effects.
The set up of Everythingme contextual android launcher app
The configuration is pretty simple all you have to do is download the Everythingme apk or the installation package which available for free from the Google Play store. Follow up with the on screen instructions for successful integration of smart app with smart devices.
Concern
Cannot move the app to SD card.
Wrapping up
Everythingme contextual smart launcher app for android is well consideration for your smart devices, moreover its available for free in the Google Play Store.