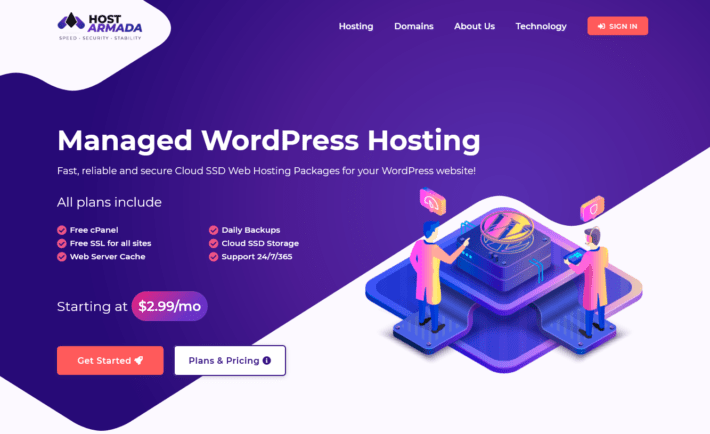 WordPress is the primary choice of millions of experts in the world. Experts need managed WordPress hosting to maintain responsiveness to the site and improve the loading speed. You can find thousands of hosting companies that promise to deliver the services, but they don't impress you after a while. We are going to review the HostArmada WordPress package and ensure that you know what you are paying for.
What is HostArmada?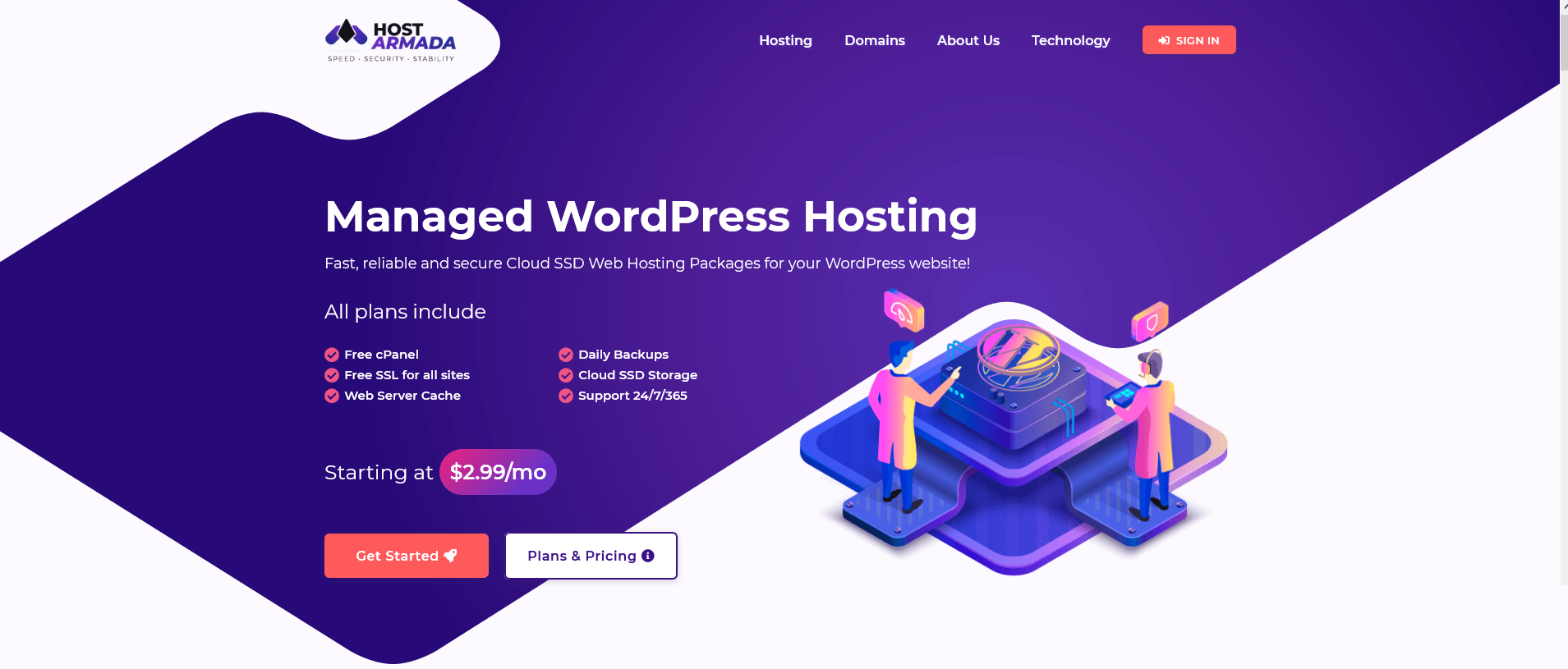 Host Armada is a web hosting company that is offering Managed WP packages to the customers. The brand seems promising and offering exciting features under an affordable price tag. We are going to look at the features and performance to ensure that it is worth looking at and who should consider it.
1. Specifications
We consider specifications a significant factor for Managed WP Hosting and select from Start Dock ($2.99 per month), Web Warp ($3.89 per month), and Speed Reaper ($5.39 per month). You can check out the Managed WordPress Hosting packages on the official page for more information.
Let us look at Start Dock ($2.99 per month) because that's going to be popular among the beginners.
Customers can host one website.
It's going to be 2-Core CPU.
2 GB RAM backs the CPU.
Site administrators can save files in 15 GB Cloud SSD Storage.
By spending $2.99 per month, you are getting entry-level hardware specifications and unmetered bandwidth. It is a decent package for most of the site administrators and can handle 10,000 unique visitors per month.
2. Stable Server
Yes, the price is excellent, and the specifications look great on the paper, but what about the number of websites running on one server? Let us assume that there's one mid-range server that has more than 500+ sites running on it, and then it will stress the CPU, RAM, SSD, and other components in the server.
Host Armada maintains low customer frequency in one server, and it ensures that hardware is not stressful. The WP hosting server load decreases, and the optimal website performance is guaranteed. The brand also used Cloud SSD Technology for 99.9% uptime, and that ensures excellent performance.
3. Free Website Migration Service
Got a website on another hosting provider? Don't worry because you got migration covered under the free migration policy. Once you make the purchase and the order is confirmed, then you can ask the support team to migrate the site to Host Armada. You no longer have to worry about moving the site on the new host and the risk of losing data. The migration service is 100% free and does not bear any hidden costs.
4. Money-back Guarantee Policy
Choosing a new company is a skeptical choice because you don't know about the support, server response time, and real-time performance. You can work on your site for 45 days, and if you don't like the performance of the servers, then ask for a refund. The team will initiate the return within a few days, and nobody will ask you a question.
Customers have 44 days to use the services, and if you are not satisfied, then you can ask for a refund. However, if the trial period exceeds 45 days or above, then you cannot ask for the return, and it will be declined. We recommend the readers to cancel it within 44 days.
5. Customer Support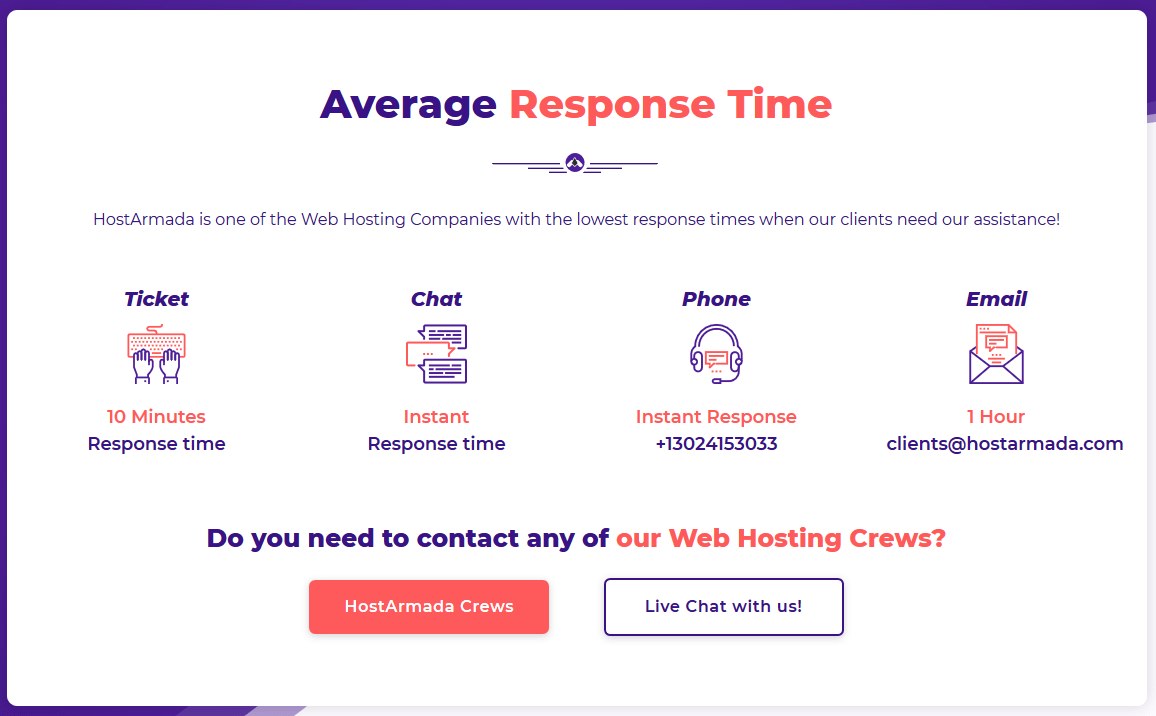 Are you choosing a web hosting company? Always select a company that promises 24/7 support. You don't have access to the physical server and software and have to depend on the support team. If you don't have a responsive assistance team, then your website will crumble.
Host Armada has Phone, Chat, Ticket, and Email, assistance team. As a customer, you will be satisfied with the response and have the problem solved.
6. Data Centres

The hosting provider covered the entire planet and has Data Centres on many continents. You can select the server from Asia, Europe, Australia, North America, and more. Customers can choose one location and one Data Centre to host the website and target the audience. The Data Centre is a crucial aspect for visitors to load the site faster.
Bottom Line
Host Armada is an affordable WordPress hosting company that is offering decent specifications and prices. Customers have nothing to lose as there is a 45-days money-back guarantee policy. Let us know what do you think about the Host Armada WordPress hosting packages in the comment section below.