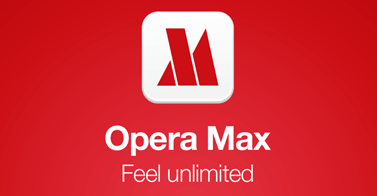 Great news for all who want to get more data from your current mobile data plan, Opera Max has opened Global Test for Android.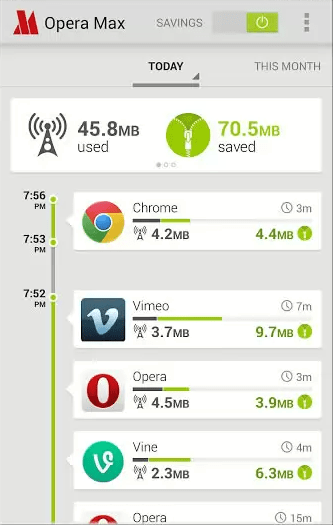 So what exactly is Opera Max ?
Opera Max is a Virtual Private Network, or VPN, to measure all the data usage on your phone."Once Opera Max savings is enabled, all non-encrypted data requests are sent through our compression servers that optimize video, images, and websites to use less data. We only measure how much data you use and how much data you've saved ", reads the company's blog. When opera max was released in 2013 it was limited to USA, Canada, Mexico, Western Europe, Russia, Ukraine, Belarus, CIS countries.
Features of Opera Max 0.9.124 Android App
Get more out of your data plan with data compression technology of Opera max, which compress video, images, and websites which can be squeezed.
You can easily block any app as you wish from using mobile data and restrict it to using Wi-Fi only.
Unlike other VPN Opera max once turned on it automatically starts to save data when the mobile data is turned on and instead of turning the VPN off when the mobile data is turned off Opera Max just pause its service.
Opera Max summarizes each app data usage on daily basis, so that we can find which apps are burning the data in the background.
Privacy protection as Opera Max doesn't touch any data that goes through secure connections.
App uses less resource like 15 – 25 MB of RAM when it runs in the background.
Some other features of Opera Max
Like any other VPN Opera Max doesn't compress the data over tethering and Wi-Fi.
No data compression for applications or websites that use HTTPS encryption (like Facebook).
If you are Opera Mini user you wont be see any data saving in Opera Max as opera mini already compress the data before it reaches to you that is Opera max do nothing for already optimized mobile content.
No compression of data during the file downloading or  a particular app updation
Now you will be thinking are there any software like this to save the data in windows powered system since opera max doesn't support data saving in tethering mode on mobiles. Simple way to enable data saving is by using Opera web browser for windows.
How to get Opera Max Global Test Version for Android ( .apk ) ?
Make sure you are having an android device that runs android 4.0 or up. Go to this official page for downloading the direct .APK of Opera max to try out the data saving app in your country." We have prepared 20,000 slots for Opera Max beta testers from countries where the app is not available in Google Play " reads opera blog.
Opera Max VPN is now available in Turkey and also in Latin America
Hurry before the slots run out !