Hosting plays a crucial role if are thinking of starting a new website or blog to expand your business in the online world with self hosted WordPress or Joomla. Now the problem is that there are many hosting provider that provides you with various types of hosting from free to dedicated hosting, picking up right one from the heap is pretty difficult. Sometimes due to insufficient money to pay for the hosting services is common among newbies and they opt for free hosting. When lots of traffic start to appear, many free hosting providers won't be able to handle it because of limited resources. It's the time when you have to upgrade to premium plan, but sadly your hosting provider won't be having any plans like that and you have to move to another hosting, a premium one. Now the real difficulty begins as you don't know how to move the WordPress installation and sql database. But consider if your hosting provider have plans from free to vps? Yes no headaches of moving the WordPress installation. One such top hosting provider in this category is KVCHosting.

Lets see how they are different from the rest.
The very first thing that caught our attention was their wide range of hosting plans. The plans started from free hosting to customized hosting. Free hosting is eye catcher for many of us.
What are features that kvchosting provide in their free hosting plan ?
Kvchosting has 3 different plans under free plans namely K plan, v plan and c plan. If you wish to use WordPress content management system then C plan is the one you have to choose. This plan gives you free 1.5GB of disk space and 25GB monthly bandwidth which is more than enough for your new launched blog or website. Kvchosting also ensure that they don't place any banner ads on the blog that you have started with free plan. Virus Scanner in Cpanel is an added bonus for this free plan. To get started with any free hosting plans there is a small one fee. So why do they say it as free plan? You are free from monthly or annually recurring fees. Do note that free hosting always have limitations.
Now we can see what all features are offered by kvchosting premium plans.
Like free hosting the plans are named as K, V, C hosting. The first two plans are aimed for medium traffic blogs or websites. The K plan offers 100GB of disk space with unmetered bandwidth which is good if you are having a newly started blog with self hosted WordPress cms. K plan also let you add another 4 more domain. This economic plan is priced only at $1.89 per month from kvchosting. The second plan called V hosting is priced at $2.99 per month offer you with unlimited disk space, 1TB bandwidth, 50 addon domains and 6 core CPU to handle various process. The last plan offered by kvchosting is called C hosting or we like to call it as unlimited plan since bandwidth, disk space and addon domains are unlimited. 8 core CPU that comes with the plan ensure that blog or website is not affected when there more traffic. This plan is ideal for enterprises, file sharing, photo sharing and video sharing ones.
What are the common features offered by kvchosting shared plans ?
After launching a new website or blog getting into search engines is tough job for many of us but kvchosting simplifies this task by giving 70+ SEO Tools. RVSiteBuilder offered in all plan make the building of a website much easier with out touching the code. To monitor all the website statistics kvchosting provides you 3 tools called AWStats, Webalizer, Latest Visitors Stats. Whenever single user consume more resources, then other users in the same server are also affected. To avoid this issues kvchosting uses a automated load balancing feature called KVC Shield which is installed on all their shared servers. KVC shield also helps in protection against DDOS.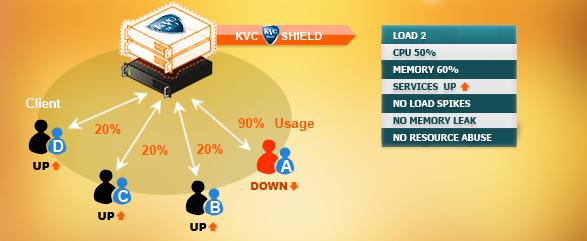 Support is something that plays an important role in hosting. To solve the problems instantly kvchosting have 24×7 live chat and phone support, in some cases email support with ticket system to make sure their clients are are happy.
What if you are unsatisfied with their hosting services?
45 days money back takes care of it.
As you know search engines don't like slow websites, in this scenario  KVCHosting has taken extra care by using SSD ( solid-state drive ) on all their product.
Other than these what all hosting services are offered by them
– Reseller hosting in which you can start a hosting business and earn from it.
– SEO hosting helps you to get dofollow back link from page rank blogs or websites with hosting.
– SSD VPS hosting , Business hosting, Dedicated servers etc
Lastly if you can't find a plan that suits your need. Kvchosting also have answer for that. The customization plan let's you to configure how much disk space, bandwidth, type of hosting like shared or dedicated etc.
Wrapping up
If you can't find a web hosting provider that has configurations needed for you at an economical price then KVCHosting will be a great relief for you.